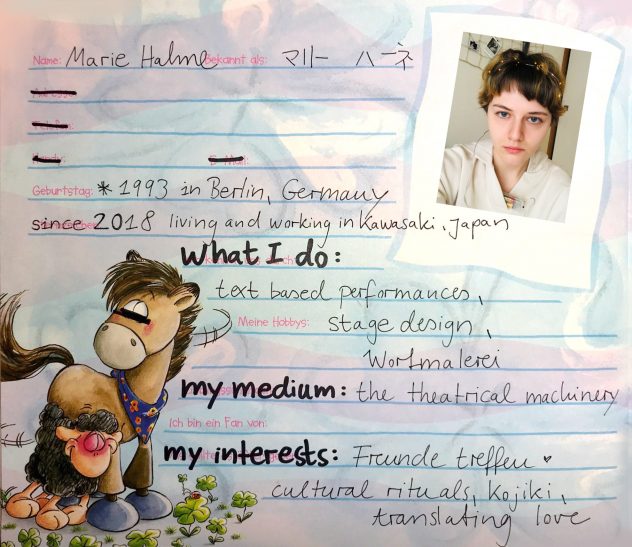 Born in Berlin, Germany in 1993
Marie Hahne studied Costume and Stage Design at Weißensee University of Arts Berlin and COntemporary Art at Hiroshima City University, Japan.
Since 2018 she is living and working as a freelancing artist in Kanagawa, Japan.
Marie Hahne's work evolves from the written word.
Taking her original prose, theatrical texts or the myths of the Japanese Kojiki, she seeks to translate words into spaces.
Those spaces then become the stage for interactive performances.
Japanese and German language interwine and invite the observer to get close, listen, touch and experiment between cultures.
Education
2013-2018
WEIßENSEE UNIVERSITY OF ART BERLIN, Germany
major: STAGE- AND COSTUMEDESIGN
2016-2019
HIROSHIMA CITY UNIVERSITY, Japan
major: Contemporary Art
Lecture
2013-2018
applied arts at Kunstbastion Berlin, Germany
2019/2020
contemportry art at Hiroshima City University, Japan
2020-2022
arts and theatre at Deutsche Schule Tokio Yokohama, Japan
Projects & Exhibitions
August 2022
traんslatiんg lおve
text installation and book print, 本屋綴り方 Yokohama
August 2022
MATSUKAZE/松風
theatre performance, Yokohama Theatre Group, Kawasaki

Juli 2022
someone/ anyone/ no one
performance, organized by Itto Sakai, Bonobo Tokyo
April 2022
KOTOBA SLAM JAPAN
lecture performance, violetta Tokyo

March 2022
INFRASTRUCTURE
interactive performance, organized by Itto Sakai, Bonobo Tokyo
March 2022
MATSUKAZE/松風
showcase, Yokohama Theatre Group, Kawasaki

February 2022
INSTA PLAY #1
online theatre project by Shayna Klee
November 2021
KOTOBA SLAM JAPAN
lecture performance, Yokohama
12.8.-10.10.2021
First International Festival of Manuports
group exhibition

1.-26.July 2021
AIR Yui-Port Niigata
Amaterasu Party, interacutive exhibition and performance
27.28.March 2021
HOMOHALAL
theatre performance, HMP Theatre Company Osaka
20.21.March 2021
地下鉄一号線
immersive theatre, Harumachi Festival Osaka
13.14.February 2021
AMATERASU PARTY YOKOHAMA
installation/ performance, TPAM fringe Yokohama
30.Oct.-15.Nov. 2020
妙蓮寺見つけた写真館
workshop/ group exhibition, 本屋・生活綴り方
17.-26.October 2020
PENTHESILEA
lecture performance, Theatre E9 Kyoto
1.August 2020
86°/ 90°/ 96°
a socially distanced performance, 本と自由, Hiroshima, Japan
15.-30.May 2020
86°/ 90°/ 96°
exhibition, 本屋・生活綴方, Yokohama, Japan
17.-19.January 2020
ICH ERINNERE MICH FAST AN DICH
lecture perfomance, 本と自由, Hiroshima, Japan
14.December 2019
OPEN STUDIO MUSASHINO
group exhibition, Musashino Art University
23.24.November 2019
HOMOHALAL
Goethe Institut Osaka, Japan
November 2019
text art, opening of Theatre E9 Kyoto
29-31 March 2019
ICH ERINNERE MICH FAST AN DICH
exhibition, CORE Alternative Space, Hiroshima
12.July 2018
AMATERASU PARTY BERLIN
performance, Bastion Kronprinz, Berlin
2018
PENTHESILEA
short movie, 3sat, Germany
January 2018
ROADS
group exhibition, Design Festa Gallery, Tokyo
December 2017
天照/ AMATERASU
exhibition, Design Festa Gallery, Tokyo
June 2017
ALTONALE
art festival, Hamburg
Mai 2017
ENERGIE und KUNST a WindNODE project
exhibition/ art event, Germany
Spring 2017
YOKOGAWA ART FESTIVAL
Hiroshima
Spring 2017
POSITIONEN
group exhibiton, Bastion Kronprinz, Berlin
JULY 2016
NEO EDEN
exhibition, cooperation with Hikaru Suzuki, Sozou Juji LAke Art Museum, China
June 2016
.COM
group exhibition, Hiroshima City University Art Museum
2015
AN ALLEM IST HÜTCHEN SCHULD
opera, MOON Berlin, Bochum
June 2015
DIE TOTEN KOMMEN
stage design with Maike Krych, Center for political beauty
January to March 2015
GENY
exhibition, Kaufbar, Berlin
July 2014
ALTONALE
art festival, Hamburg, Germany
May to August 2013
ZWEI POSITIONEN
exhibition, Bastion Kronprinz, Berlin
June 2013
ZUKUNFTSDIALOG
art event, Siemens, Berlin
2012
KUNSTSTOFF
group exhibition, Bastion Kronprinz, Berlin
Publications
traんslatiんg lおve
pubished by 本屋・生活綴り方
86°/90°/96°
self published, 本屋・生活綴り方
UNTER DEM APFELBAUM LIEGEN
Dorante Edition, Germany
ICH ERINNERE MICH FAST AN DICH
self published, JAPAN
ZIMMER ZWEI. SCHREIBEN. GESCHLECHT. AUTORENSCHAFT.
UdK Verlag, Germany
DEM SCHMETTERLING FOLGEN
Dorante Edition, Germany